---
Enjoy the cool shade with Gumax® automatic sun shading underneath your veranda. Thanks to the heat-reflecting, stylish fabric that can be easily operated with the accompanying remote control, this compact ssystem is the perfect combination between functionality and elegance.
The revolutionary fabric used for the Gumax® sunshading, produced with a synthetic fabric with interwoven aluminium threads, reflects 89% of the heat radiation. This prevents any hindrance from bright rays of sunlight and you can even stay outside on the hottest days of the year. Additionally, Gumax® sun shading keeps out 73% of the visible light, thereby preventing glare. Even so, despite the effective reflection of light, you will not experience any obscuration underneath your patio roof. You will get the privacy of a secluded terrace without compromising on the unrestricted outdoor experience.
Download our brochure below.

The new standard in heat and light reflection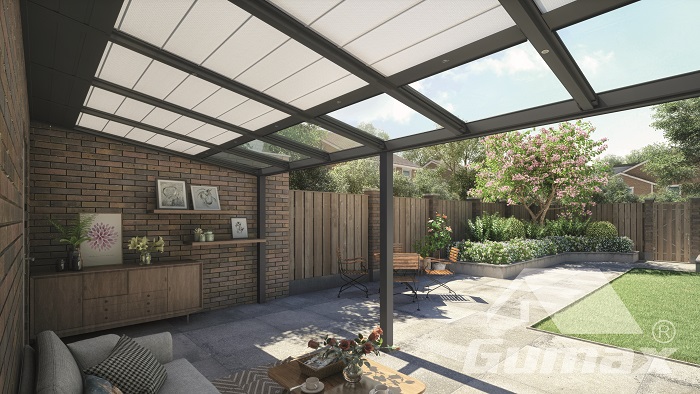 User-friendliness
From private terrace to hospitality facility; with the sleek and timeless design of Gumax® sun shading, you can extend the terrace season to the max. Gumax® sun shading is characterised by its user-friendliness: the compact remote control enables you to create shady areas on the hottest days and prevent hindrance caused by the glare of the low sun in autumn at the push of a button. The motor of each panel can be individually operated for optimal heat reduction. This is possible for up to no less than 16 panels.
High-grade sun shading underneath the roofing
Because the Gumax® sun shading is mounted underneath the veranda and will not be affected by the weather outside, the system requires only the least amount of maintenance. When not in use, the panels of fabric are retracted more or less invisibly, and compactly underneath the roofing. Additionally, the moving parts of the Gumax® system are self-lubricating, so you do not have to apply lubricant yourself at any time.
Easy to combine
In both usability and design, the flexible Gumax® sun shading can be effortlessly combined with the entire range of Gumax® outdoor solutions thanks to the flexible Gumax® extension system. Gumax® sun shading can also be used with other types of patio roofing as long as the space between the beams ranges between 936 mm and 950 mm. Feel the power of Gumax® sun shading and experience the difference yourself. You can visit a Gumax® Reseller near you to find out more about the options and feel the experience of Gumax® automatic sunshading.
Get in touch with us
Gumax® is happy to help you. Just fill in the form below.
Please be as clear as possible so we can give you a good advice.
Find sales outlet nearby
For more product and sales information,
please contact a dealer near you. Find the closest sales outlet to your current location based on your IP-adress: