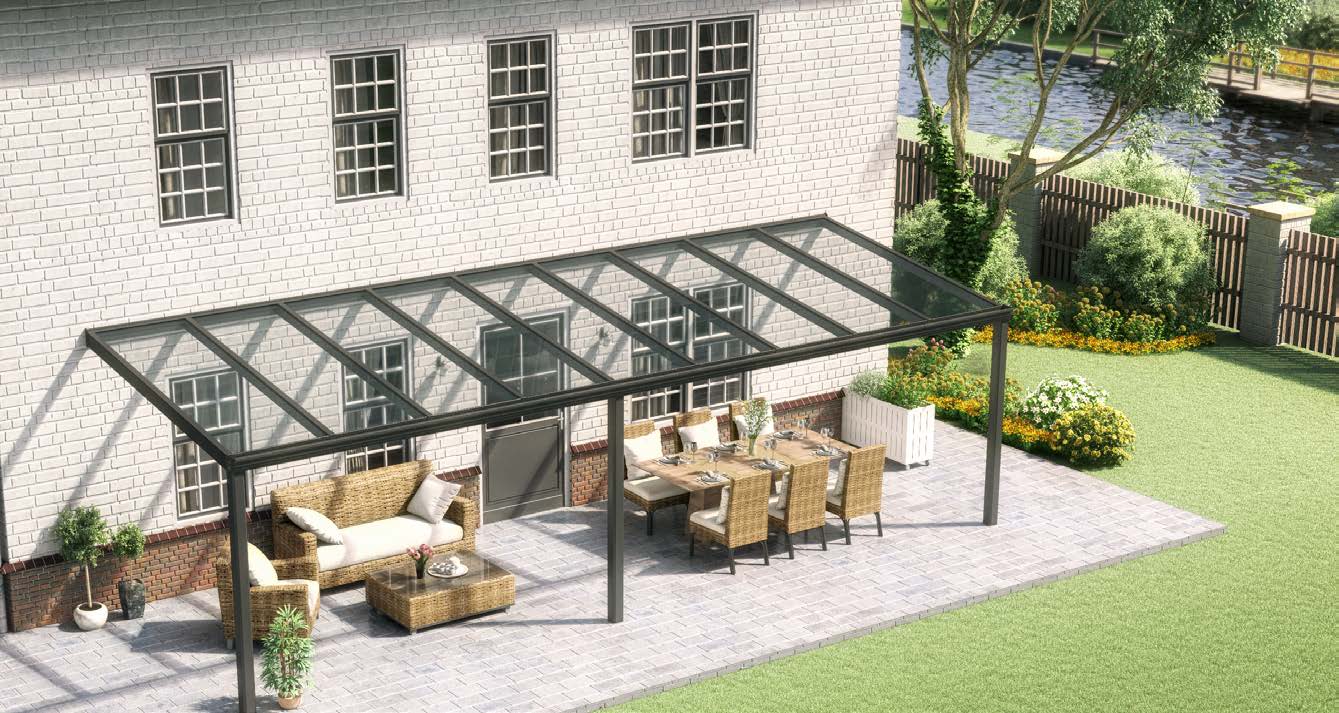 ---
Enhance your outdoor living with Gumax® verandas. When it comes to high-grade aluminium verandas, Gumax® verandas have been unrivalled for many years. With the extensive choice in styles, colour, and roof types, you can create the most ideal combination for a veranda that will seamlessly bring your home and garden together.
Gumax® patio roofs are available in two models and two colour variations: we offer a traditional and a contemporary style, in the colours mat white (RAL 9016) and mat anthracite (RAL 7016). This means there is a perfect veranda for every type of house; from modern-design houses to classical or country-style homes. Furthermore, Gumax® offers a wide choice of roof types; from a glass roof that brings in the maximum amount of light, to three types of polycarbonate for solid roofing with a more limited transmittance of light and heat. All the possible combinations allow you to personalise your veranda entirely to your own taste.
Download our brochure below.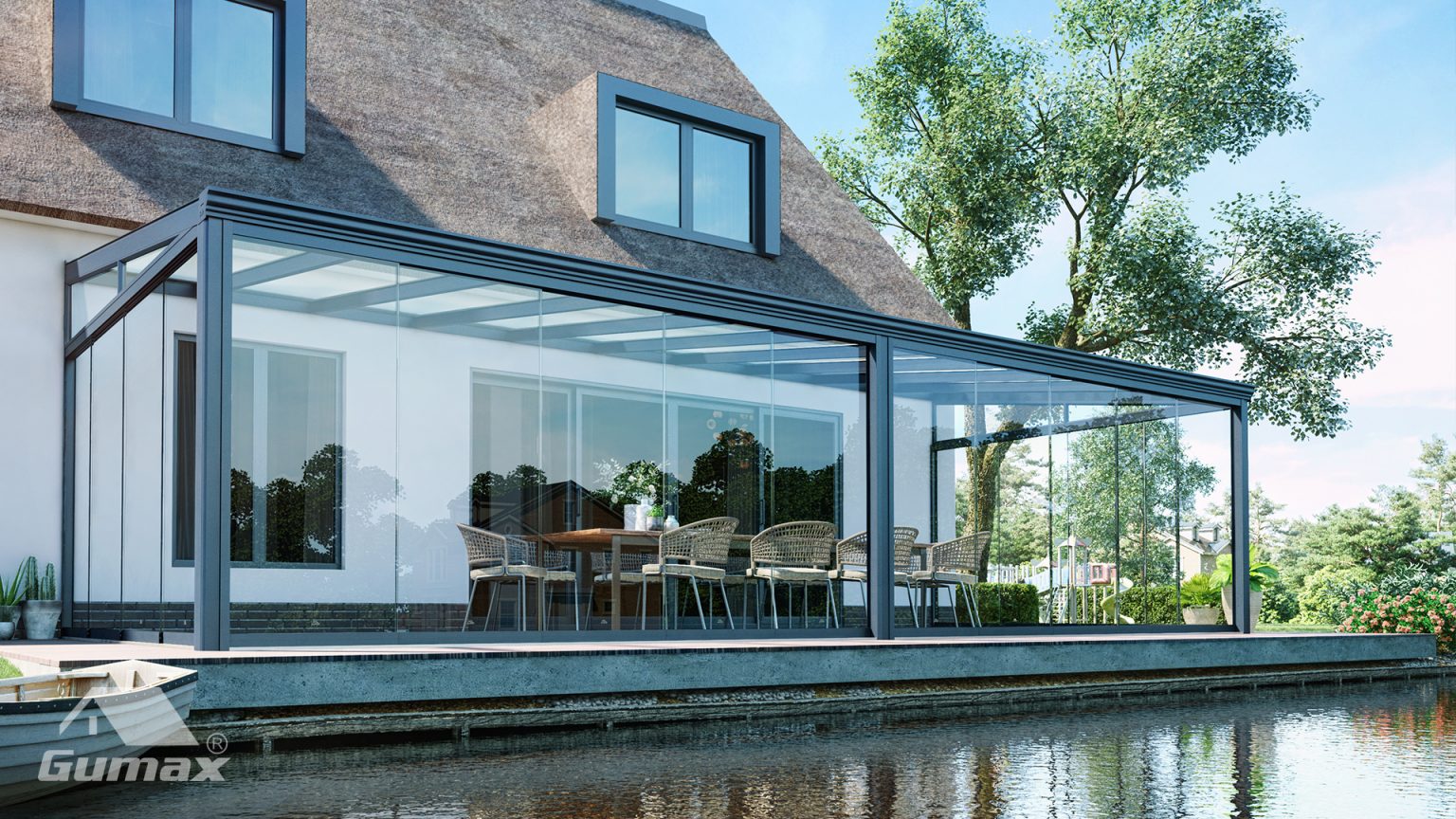 Create your own comfortable living space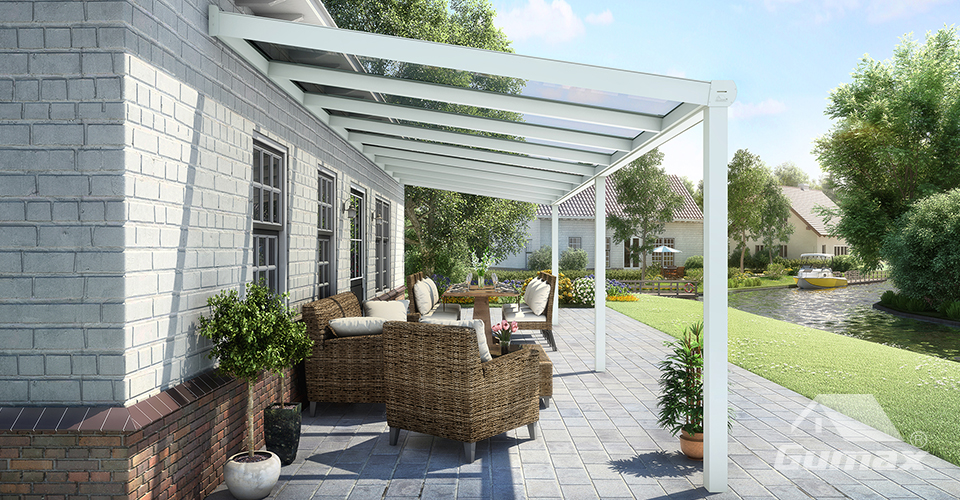 Light and Space
Thanks to the wide span between the beams of Gumax® verandas, you will enjoy unobstructed views and lots of light. Gumax® verandas have a maximum free span of 6.06 m in width and a depth of 3.0 m with polycarbonate roofing. For verandas with a glass roof, the maximum width is 6.06 m with a depth of 2.5 m for a span without a third post. Gumax® verandas can be connected endlessly, so it is possible to create a suitable veranda for both smaller and large terraces.
Gumax® quality
Design and quality come together thanks to the high-grade 6063-T6 aluminium that is used to produce all Gumax® verandas. The use of high-grade aluminium in combination with the spring steel strip in the gutter ensures an optimal resistance against extreme weather conditions. All Gumax® systems also include a CE label that proves that we comply with all legal and construction requirements.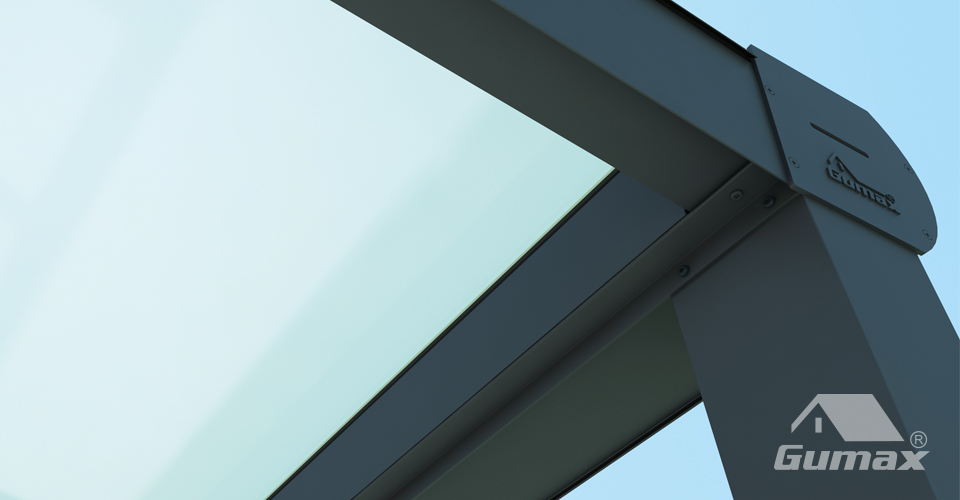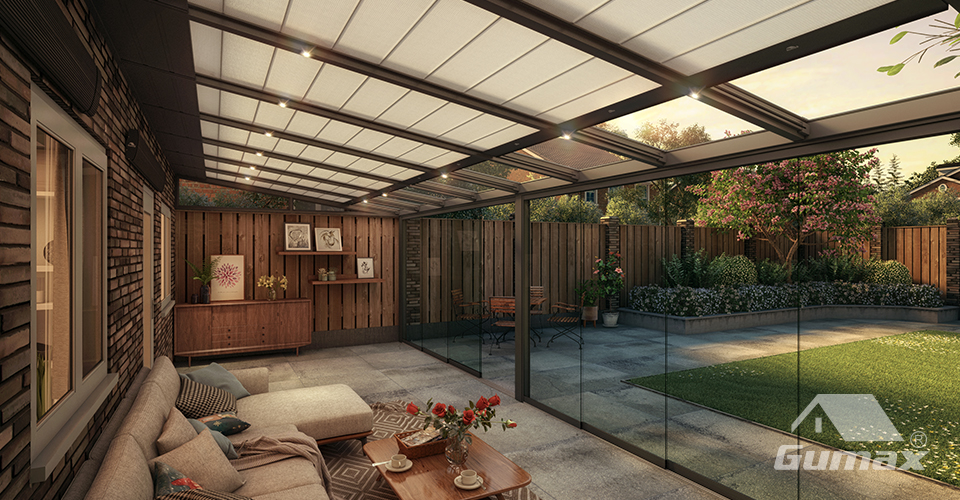 Harmonious extension
Extend your Gumax® veranda in whatever way you like and whenever you want. Upgrade your veranda to a real garden room by adding Gumax® glass sliding walls, and create shade underneath your veranda with Gumax® sunshading. Gumax® offers you flexibility and comfort while retaining the same look & feel for all extension options for your veranda. Enjoy your garden in style, season after season.
Get in touch with us
Gumax® is happy to help you. Just fill in the form below.
Please be as clear as possible so we can give you a good advice.
Find sales outlet nearby
For more product and sales information,
please contact a dealer near you. Find the closest sales outlet to your current location based on your IP-adress: