---
Give your Gumax® veranda an authentic look with the Gumax® struts. The struts connect the post with the gutter to create an elegant finish for your veranda.
Download our brochure below.
Making great outdoor living experiences for everyone
Style and functionality
Gumax® struts are available in the colours matt white and matt anthracite. The struts, as well as the Gumax® verandas, are made of high-grade 6063-T6 aluminium. That makes the Gumax® strut a harmonious addition to your veranda. Apart from the aesthetic value of struts, the cross beams underneath the span also have a constructional function. Even though the Gumax® patio roofs are extremely solid thanks to the spring steel in the gutter, struts offer additional stability in extreme weather conditions.
An upgrade for every veranda
Whether you have a modern or classical veranda, you can add a stylish, decorative element with Gumax® struts. Gumax® struts are placed at the top of the post, underneath the gutter, so they are easy to fix to the veranda. The diagonal struts have a length of 600 mm (long side) and are supplied with two U-shaped profiles between which the strut is fixed. Mounting Gumax® glass sliding doors with struts at the front is not possible as the glass sliding door is positioned on the inside of the post and the gutter, making the strut fill up the void. Apart from authentic struts, Gumax® offers a wide range of accessories for verandas and glass sliding doors.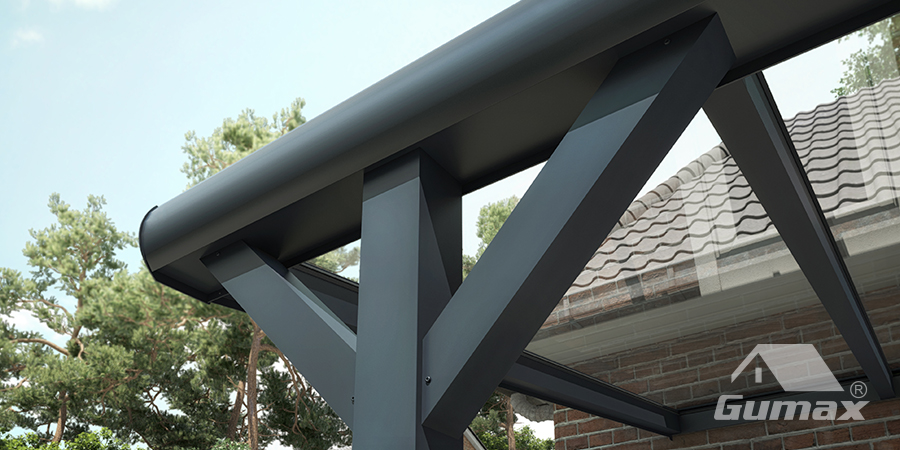 Get in touch with us
Gumax® is happy to help you. Just fill in the form below.
Please be as clear as possible so we can give you a good advice.
Find sales outlet nearby
For more product and sales information,
please contact a dealer near you. Find the closest sales outlet to your current location based on your IP-adress: