---
With Gumax® LED spots, you can enjoy a tastefully lighted terrace in the evening. From dimmed lighting for a cosy dinner to clear lights for reading a book on a summer evening; with the accompanying remote control you can always create the atmosphere you are looking for.
Download our brochure below.
Making great outdoor living experiences for everyone
Cosy and comfortable outdoor space
The warm-white light given by Gumax® LED spots makes every veranda a cosy and comfortable space to enjoy your evening. From private verandas to public areas such as restaurants and hotels; the spots instantly provide an inviting and comfortable ambiance. Thanks to their minimalistic design, the dimmable LED spots are seamlessly integrated into your Gumax® veranda. The transformer and wires will be tucked away behind the click boards of the veranda. Functional, stylish, and timeless.
Easy dim function
Gumax® LED spots consists of a set of six LED spots that are dimmable to get the desired amount of light by using the remote control. The dimmer has three functions: more light, less light, and on/off. Control the lights from the comfort of your seat to match your ambiance. All spots can be distributed across the Gumax® veranda in whatever way you like, up to two downlights per beam. Create your own lighting plan.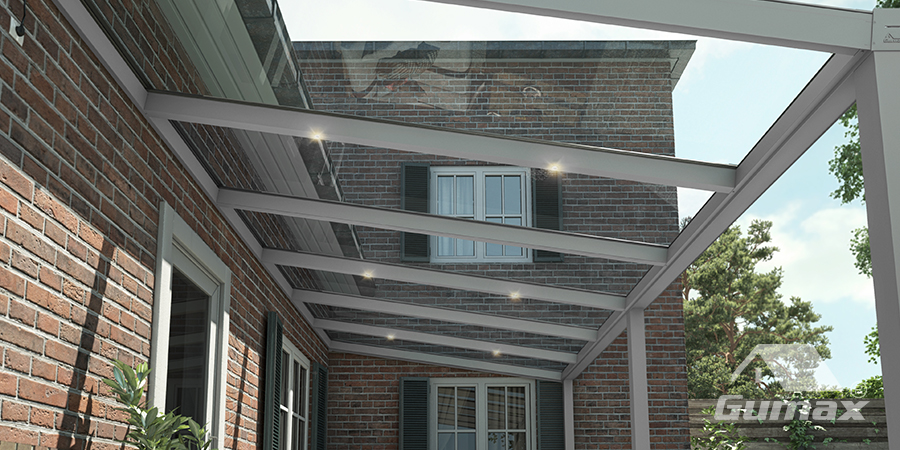 Sustainable choice
Gumax® LED spots is extremely energy-efficient without having to compromise on light quality. The lights use substantially less electricity than other lighting solutions, they are free of toxic waste products, and only produce a small amount of heat. Apart from that, LED spots immediately produce the full amount of light so there is no need to wait for the lights to reach full capacity. Gumax® LED spots also has a long lifespan; the spots are less vulnerable due to the use of shock-resistance materials and last longer than conventional lights.
Bring the cosy living room atmosphere outside with Gumax® LED spots integrated into your veranda.
Get in touch with us
Gumax® is happy to help you. Just fill in the form below.
Please be as clear as possible so we can give you a good advice.
Find sales outlet nearby
For more product and sales information,
please contact a dealer near you. Find the closest sales outlet to your current location based on your IP-adress: