Gumax® Lighting System
Create the perfect atmosphere under your veranda. Set up to eight scenes to your liking on the remote control or as many as you want via a Smart Home system. Control the Gumax® Lighting System easily with the included remote control or a Smart Home system. Easy to install by 1 person. Even if you already have a veranda.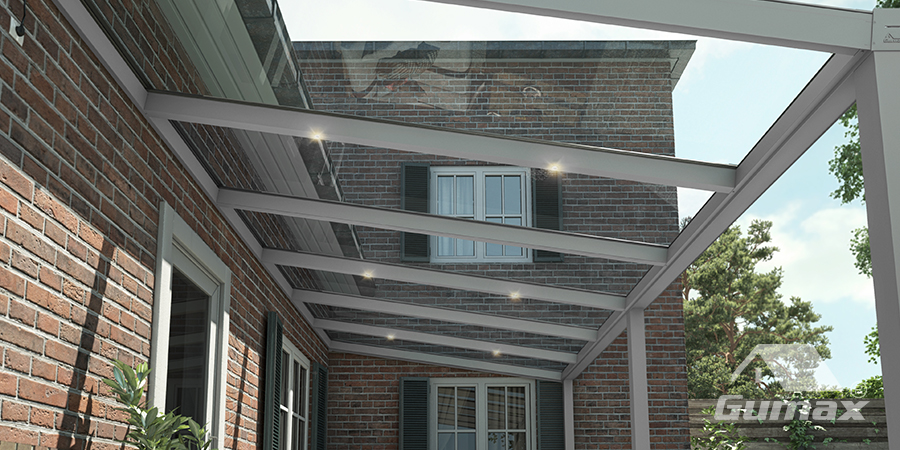 LED lighting
Gumax® LED spots with dimmer gives your veranda atmospheric lighting that is perfect for evenings. The remote control allows you to have a beautifully lit patio in just a second. You can easily change the light intensity as you desire.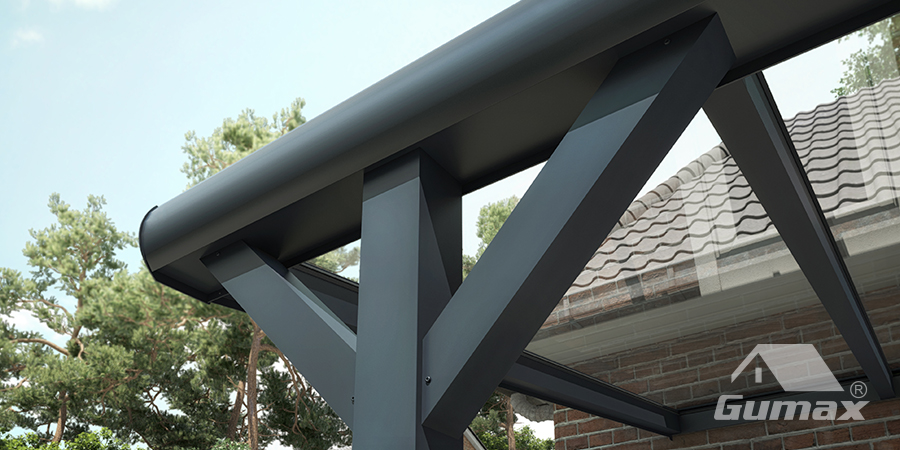 Strut
With Gumax® struts your veranda will have a unique style. If you decide to use struts. It will not be possible to place glass sliding doors on the front side of the Gumax® veranda.
Glass wedge
An 8° wedge for glass sliding doors allows you to place glass sliding doors on the side of your veranda as well. This wedge ensures that the passage height on the side is equal to the passage height on the front of your patio roof. This wedge is made of aluminum and tempered glass. The glass is covered with mat film, so it's not possible to look through the glass of the wedge.
Polycabonate sidewall
A Gumax® sidewall allows you to fully close one side of your veranda. The polycarbonate panels will be used in an upright position.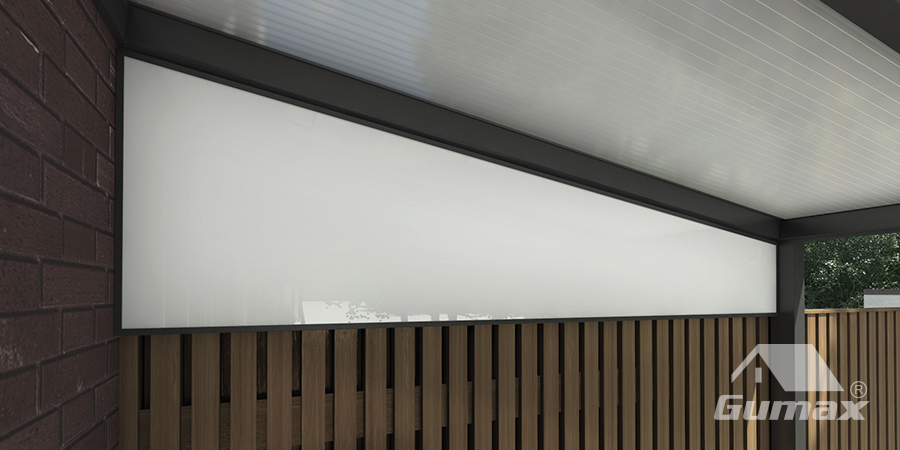 Polycarbonate trapezoid
With the Gumax® polycarbonate trapezoid, you can close off a part of the veranda. The trapezoid is very suitable for placement above or right next to a fence for a clean finish of the space. A panel is up to 980mm in height and can be shortened to size.
Doorhandles
The Gumax® door handle can easily be attached at the desired height on the side of the glass panel. Combine Gumax® door handles with Gumax® decorative and weather strips to create a stylish whole.
Decorative strips
Seal the space between the overlapping glass panels with weather strips. Combine weather strips with decorative strips for a complete finish of the glass sliding door.
Get in touch with us
Gumax® is happy to help you. Just fill in the form below.
Please be as clear as possible so we can give you a good advice.
Find sales outlet nearby
For more product and sales information,
please contact a dealer near you. Find the closest sales outlet to your current location based on your IP-adress: